Home ▸ Tree Disease Treatment ▸
Grape Phylloxera Treatment in Fort Worth, TX.
Texas has quickly become one of the most popular wine-growing regions in the United States. Grape vines are flourishing in Fort Worth and throughout North Texas. Vitis vinifera is the most popular grape varietal and is heavily targeted by the microscopic insect pest known as grape phylloxera. ISA certified arborists and arbor care professionals have extensive experience battling this grape vine destroyer. This insect problem is difficult to recognize because the insects target the vine's root system, killing the roots and preventing them from dispersing water and nutrients throughout the vine. Grape phylloxera reproduces rapidly and there is no cure or means to reverse their damage. Contact an experienced tree company immediately if your grapevine has premature defoliation, an overall thinning appearance or is declining in health. Grape Phylloxera Treatment in Fort Worth, TX, call (817) 880-6130 for an Grape Phylloxera diagnosing!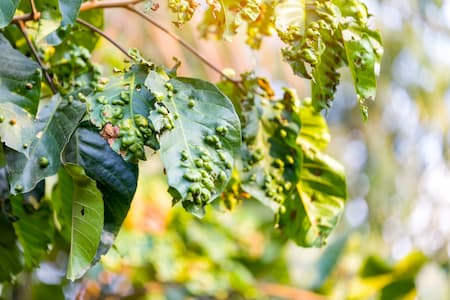 For Grape Phylloxera Treatment Call Arborist USA of Fort Worth!
Diagnosing Grape Phylloxera
This insect infestation spreads via infected soil. The contaminated soil is spread easily throughout the vineyard or your outdoor grounds by means of wind, rain, digging and planting or simply walking about. It is imperative to contact an arborist that treats sick trees and request a detailed diagnostic evaluation. Small bumps on the leaves are confirmation of grape phylloxera infestation. The soil and root systems of the vines will be examined by the ISA certified arborist and a diagnosis report will then be provided. Our tree doctor will determine the specific treatment necessary and a one year warranty is always provided for any treatment.
Treatment Of Grape Phylloxera
Preventing grape phylloxera from ever infesting your outdoor grounds is the best defense in battling this deadly pest! Infected vines must be immediately removed and destroyed by a professional tree removal company. Insecticide applications administered by a highly-skilled tree expert are successful when accurately timed. There are grape varieties that have a higher resistance against grape phylloxera and the tree care specialist will aid you in the selections. Working alongside an experienced tree company and enacting an ongoing outdoor environment and tree and plant health care maintenance program will ensure that your valuable grapevines and your habitat grounds always remain healthy, strong and thrive. Take proactive measures and entrust the care of your residential outdoor environment and your vineyards to the best arborist in Fort Worth, Texas. Our knowledgeable, highly-experienced team of professionals are devoted to providing you with the best service you need and desire at the best price. If you have Grape Phylloxera on your property, call (817) 880-6130 for a free consultation from a certified arborist in Fort Worth, TX.
Updated on April 10, 2019, at 1:35 PM by Arborist USA of Fort Worth.