Beetles Treatment in Fort Worth, TX.
The most dangerous insects to trees are beetles. They are exceptionally common in Fort Worth and the surrounding cities and our tree doctors and certified arborist are continuously encountering and battling these tree destroyers. Pine bark beetles, cottonwood borers, emerald ash borers, and wood borers are amongst the many destructive species in this large insect category. These beetles reproduce quickly and thrive in Texas heat. Numerous popular tree varieties in the DFW metroplex are endangered by these insect infestations. The damage they inflict upon trees is irreparable and without early treatment, the infested tree will be destroyed; therefore, contact an experienced tree company immediately if your tree is exhibiting premature defoliation, dead branches, bark falling or signs of a sick tree. Beetles Treatment in Fort Worth, TX, call (817) 880-6130 for an Beetles diagnosing!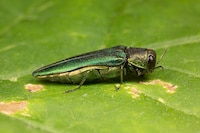 For Beetles Treatment Call Arborist USA of Fort Worth!
Diagnosing Beetles
These beetles tend to only target trees that have been stressed, weakened or wounded. Trees suffer stress to their root systems when the soil has been compacted and these beetle species will infest damaged tree roots. Often these beetles invade the tree through its root structure and prevent the tree from dispersing nutrition through its vascular system. The larvae overwinter hidden in bark crevices, ground debris, and diseased or dead trees. Always contact an arbor care professional and schedule a diagnostic evaluation. The certified arborist will closely inspect the tree, its root structure, and the outdoor habitat and provide and detailed tree evaluation report. A tree doctor will administer the treatment deemed necessary and a one year warranty is provided on any treatment.
Treatment Of Beetles
A professional tree removal company must immediately remove and destroy all severely diseased and dead trees, tree stumps, infested logs, dead branches, and ground debris. Regularly-scheduled pruning by a tree pruning service is essential. The best way to combat these lethal beetles is to maintain the health of your trees! Deep root fertilization administered by a tree expert boosts the trees immunity by 95% when administered annually. A continual tree health care maintenance plan designed by arbor care professionals ensures that your residential grounds will have proper drainage and your trees and outdoor environment will always be beautiful and healthy. Entrust the care of your valuable trees to the best arborist in Fort Worth, Texas. Our staff of tree doctors, tree care specialists and highly-skilled tree experts adhere to the tree health care protocols set forth by the standards. We are devoted to providing you with the best tree and plant health care available at the best price. If you have Beetles on your property, call (817) 880-6130 for a free consultation from a certified arborist in Fort Worth, TX.
Updated on April 10, 2019, at 1:55 PM by Arborist USA of Fort Worth.