Bagworms Treatment in Fort Worth, TX.
Bagworms are extremely prevalent in Fort Worth. They are insidious insects that are deceptive in their manifestation and often mislead the homeowner into thinking their tree has pine cones, buds or new foliage growth. Bagworms create small cone-shaped structures less than three inches in length. These worms form the casings from leaves, bark and twig remnants so that they can hide within. Fir trees such as cedar, juniper and spruce are targeted by these destructive pests as well as elm, maple live oak and numerous shade tree varieties. If treatment is not administered then bag worms will eventually destroy the infested tree. Contact an experienced tree company immediately if you observe these strange formations strewn within your tree. Bagworms Treatment in Fort Worth, TX, call (817) 880-6130 for an Bagworms diagnosing!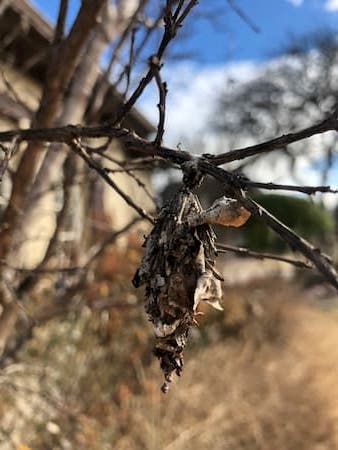 For Bagworms Treatment Call Arborist USA of Fort Worth!
Diagnosing Bagworms
As is typical with many insect infestations and tree diseases, bagworms tend to target trees that are weak and not in the best of health. They lay their eggs in fall and emerge as moths in spring. The presence of bagworm moths clearly indicates their occupation. Increased bird activity throughout the outdoor grounds is further confirmation; however, the birds that feed upon them only temporarily delay bag worm invasion. Contact arbor cares professional and requests a diagnostic evaluation. An arborist that treats sick trees will examine the tree in question and provide a detailed diagnosis report. Working with a tree care specialist is extremely important in order to guard the health of your trees.
Treatment Of Bagworms
All bags must be immediately removed and destroyed by a professional tree removal company. Ground debris must be eliminated. Regularly-scheduled pruning by a tree pruning service using sanitized tools will guard the trees against the development of new bagworm cocoons. Carefully timed pesticide applications by a tree doctor are successful in preventing increased insect infestation. A one year warranty is provided for all treatments. Deep root fertilization is an important tree of health care treatment. A highly-trained tree expert injects the specific liquid nutrients the tree requires directly into its root zone and soil is aerated by the injected oxygen. Trees that receive this key treatment annually are 95% less apt to become infected by tree disease or develop insect problems. It is always best to protect the health of your valuable trees. Take proactive measures to ensure your trees are healthy and entrust their care to the best arborist in Fort Worth, Texas. We have many years of experience caring for the trees and residences within Fort Worth and the surrounding cities. If you have Bagworms on your property, call (817) 880-6130 for a free consultation from a certified arborist in Fort Worth, TX.
Updated on April 9, 2019, at 12:35 PM by Arborist USA of Fort Worth.